| | |
| --- | --- |
| | |
http://www.yiyingyu.com - 发布时间:2010-05-24 - 所在栏目:
英语动态
olympic mascots wenlock and mandeville branded 'patronizing rubbish'
当地时间5月19日晚,伦敦奥组委公布了2012年伦敦奥运会和残奥会的吉祥物,奥运会的吉祥物的名字为文洛克,而残奥会的吉祥物名为曼德维尔。两个吉祥物均为只有一只眼睛的金属机器人,主色调为金属色,极具运动性。这两个独眼卡通形象的吉祥物一经推出,除了赚足人们的眼球之外,也引来了不少英国人的口诛笔伐。英国品牌设计专家称这两只怪异的吉祥物是"费力不讨好的垃圾作品",简直就是一场"灾难",并抨击伦敦奥组委花费巨资创造出如此令人费解的设计。对此,伦敦奥组委执行委员会主席劳德则反驳称,这两只吉祥物将可以激励更多的年轻人加入奥林匹克运动中。批评人士却表示,吉祥物的设计要遵循的基本准则应该是要人们喜闻乐见,而不是怪异。2007年,伦敦2012年奥运会会徽发布时也曾遭到恶评。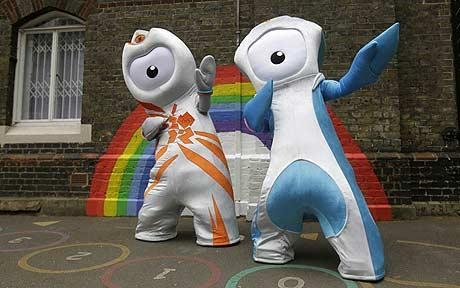 bolt from the blue: the olympic mascot wenlock, left, and the paralympic mascot mandeville strike an usain bolt pose. (agencies)
the organizers of london 2012 were plunged into a fresh row after the new olympic mascots were branded "patronizing rubbish" by design experts.
the two metallic characters, named wenlock and mandeville, were unveiled on wednesday night after a rigorous 18-month design process involving 40 focus groups.
apparently hewn from the "last drops of steel" left over from constructing the final support girder of the olympic stadium, the one-eyed creatures are intended to help young people relate to the games.
but branding experts last night called them "a calamity" and accused olympic bosses of wasting thousands of pounds on their creation.
stephen bayley, the prominent design critic, said: "what is it about these games which seems to drive the organizers into the embrace of this kind of patronizing, cretinous infantilism? why can't we have something that makes us sing with pride, instead of these appalling computerized smurfs for the iphone generation?
"if the games are going to be remembered by their art then we can declare them a calamitous failure already."
lord coe, chairman of the london organizing committee of the olympic games, defended the mascots, saying they would inspire young people to engage with sport.
"we've created our mascots for children. by linking young people to the values of sport, wenlock and mandeville will help inspire kids to strive to be the best they can be," he said.
but critics said the design would leave young people baffled. aaron shields, a partner at the design agency brandinstict, said: "i don't think people are going to relate to these very modern creations. the first rule of mascot creation is to make something familiar and accessible, not something alien. this is just going to be seen as another disappointment coming out of the olympic games."
the two characters are named after the village of much wenlock in shropshire – which hosted a precursor to the modern olympic games in the 19th century – and stoke mandeville hospital in buckinghamshire, the birthplace of the paralympic games,
in homage to london's taxis, each has a yellow light on top of its head, with an initial in the middle.
organizers would not comment on the cost of creating the mascots, which were designed by the london-based creative agency iris, but claimed it had been kept to "a few thousand pounds" because large parts of the work were done in house or with the help of sponsors.
the controversy follows a similar row over the 2012 logo, which was unveiled in 2007 after organizers spent ā400,000 on its design.
mr stephen bayley condemned the logo at the time as "a puerile mess, an artistic flop and a commercial scandal".